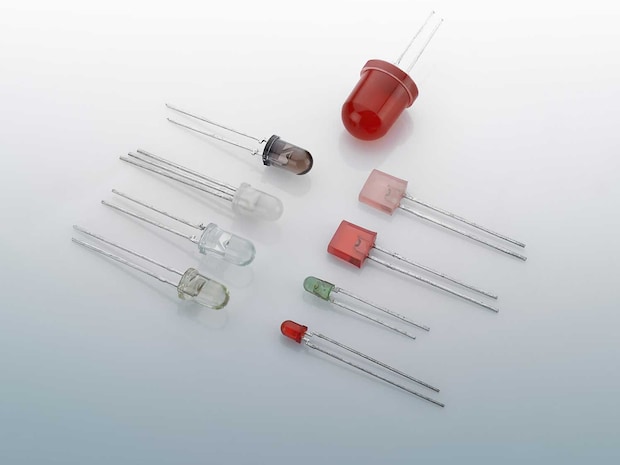 We offer a wide range of photodiodes and LEDs in different housings, which you can easily integrate into your existing systems. We can develop and manufacture tailored, customer-specific modules for sensor-based applications with optimized chip-on-board technology, in which uncapped chips are mounted directly on the PCB, thus ensuring optimum heat dissipation combined with minimal space requirements.

Jenoptik photodiodes can be used to detect light, IR or UV radiation. Our photodiodes are characterized by their high long-term stability, optical filters integrated at chip level and excellent signal-to-noise ratio.

Jenoptik LEDs operate in a spectral range of 360 to 1750 nanometers. In addition to our LEDs for standard applications, we also offer high-power Jumbo® LEDs, LED point sources and miniature LED displays. The Jumbo LEDs combine maximum beam power with minimal size. Our miniature displays can be reflected into the beam path of binoculars and other optical devices, thus allowing the display and object to be visible at the same time.

Thanks to their many years of experience and extensive knowledge, our experts can produce LEDs and photodiodes tailored to your specific requirements. We will support you in all phases, ranging from planning and development to series production and service.


Benefits
Reliable: low-noise, efficient
Stable: long service life and minimal parameter fluctuations
Flexible: simple integration into existing systems
Versatile: suitable for various optoelectronic applications
Customer-specific: adaptable to your individual requirements, integration of transmitters and receivers to build modules
Fields of Application
Automotive industry: for rain sensors, lane departure warning systems, digital data transmission in vehicles
Traffic safety: for daylight/tunnel sensors, distance and speed measurement
Medical technology: for diagnosis and therapy, e.g for fluorescence analyses, blood tests
Automation technology: for rotary encoders
Security technology: for optoelectronic sensors, light barriers and floodlights
Technical lighting: for inside and outside, e.g. for interior design, camera lighting in adverse conditions or improving plant growth in greenhouses
Metrology: measurement and monitoring of optical radiation sources, e.g. flame detection and water disinfection
Product preview