Sustainability at Jenoptik
Corporate actions, in the view of Jenoptik, are not limited to implementing business targets; a company's obligations towards society and the environment are also essential to the company's success. Together with our customers, we are shaping forward-looking trends in the areas of energy efficiency, health, the environment, mobility and safety.
For us, as an international technology company, innovation is a driving force and the foundation of our business success. With our know-how and innovative products, Jenoptik, as an "enabler" makes an important contribution to overcoming societal challenges so our customers can contribute more efficiently and sustainably to greater resource conservation and climate protection.

Understanding sustainability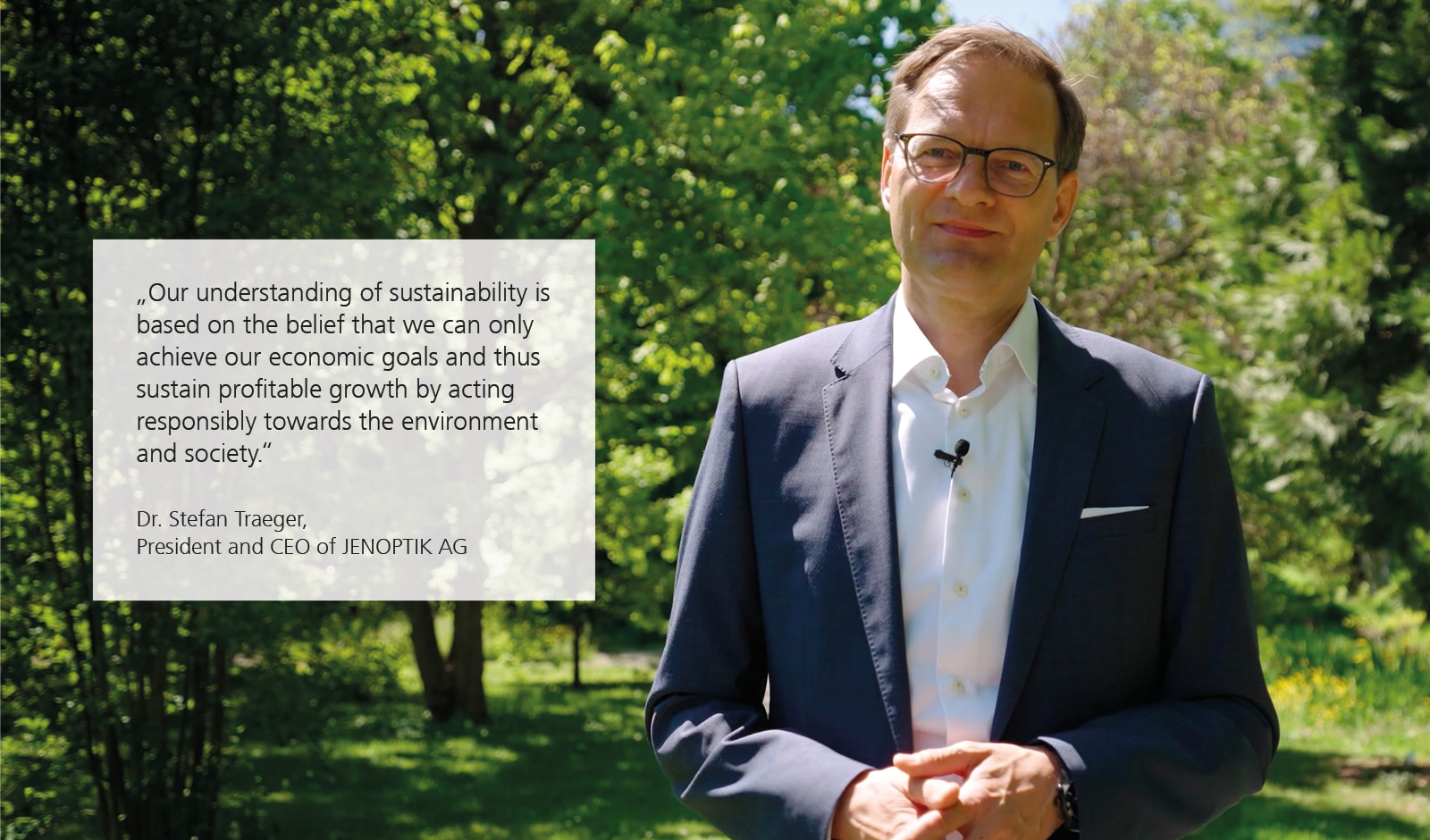 Sustainability strategy
Sustainability is an integral part of our corporate strategy and is already firmly established in the organization. At Jenoptik, we operate according to financial key figures, but are also guided by non-financial key figures. Executive remuneration takes into account our sustainability targets, which are incorporated into our group financing.
As an "enabler", we use our products and solutions to help protect the environment and conserve resources for our customers. In this way, we contribute to achieving the United Nations' sustainable development goals (SDG). We increase health and well-being through our biophotonics products; contribute to the creation of sustainable cities and communities through our road safety solutions; strengthen industry, innovation and infrastructure, and enable responsible production through smart manufacturing. We promote greater diversity among our employees and continue to intensify our efforts to reduce greenhouse gases.
Sustainability targets
Jenoptik is actively committed to greater sustainability and has set various non-financial targets, some of which are also taken into account in executive remuneration. Our group financing is also geared towards these goals – the 400 million euros debenture bond with sustainability components help to anchor sustainability even more deeply into the organization.
In doing so, we put particular emphasis on the following topics:
More green electricity
Proportion of green electricity by 2025
(target by 2022: 70%)
Diversity within the company
Diversity rate by 2025
(target by 2022: 30%)
Greater supply chain visibility
CSR rate by 2025
(Corporate Social Responsibility Rate)
(target by 2022: 40%)
Sustainability ratings, rankings and awards
Intensive dialog with the leading rating agencies is very important to us in order to obtain a fair assessment of our sustainability performance. The results of these ratings form the basis of continuous improvement measures for us. The following is a selection of ratings, rankings and awards from the areas of sustainability and social commitment from the recent past.