Our powerful Vision-Systems realize complex optical inspection tasks.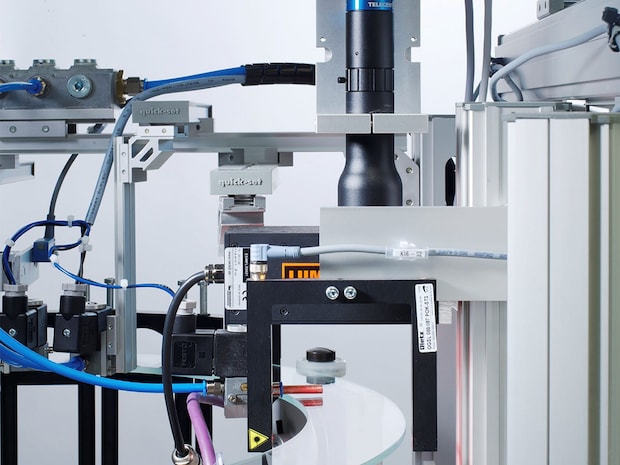 Our multi-sensor capable vision systems have the capability of operating multiple cameras in parallel, or serially, and having very short cycle times allowing high part throughputs to be achieved. The multilingual software is very easy to use, with a comprehensive function library for 2D as well as 3D applications and enables detailed data management (e.g. statistical analyses).
Jenoptik vision systems can be integrated into machines, systems and tools, used in laboratory setups, or form the heart of complete inspection and sorting systems. They are fully capable of communication via multiple types of interfaces. They are indispensable in process automation and enable tool and process monitoring as well as processand quality control.
Typical inspection tasks
High-precision external contour inspection of components
Position detection
Presence, completeness, and position control
Attributive tests
Find the right hardware and software for your optical inspection tasks
Measuring computers and accessories for your Vision-Systems
Our vision systems are PC-supported
Our vision systems are PC-supported devices that run under the Windows 10 operating system and previous versions. Their multi sensor capability allows the use of the cameras, or camera combinations, best suited for the respective applications, i.e., both monochrome and color cameras and cameras with different sensor formats and resolutions.
Other components can also be integrated into the equipment, such as light barriers, triangulation sensors, peripheral controllers, etc..
The use of tele-centric measuring lenses and application-optimized illumination is the prerequisite for achieving high inspection accuracy.
Our measuring computers at a glance
Parameters
Standards
Compact Units
Basic device
PC industrial housing
Panel-PC

Cameras

monochrome, color
Resolution
all
all

Number of cameras

up to 16
up to 4

Digital I/O-Card

8 Bit up to 32 Bit
8 Bit

Profibus/Profinet

applicable
alternative to I/O

Monitor

separate
integrated
Cameras and Sensors
Monochrome and color cameras
Line scan and matrix cameras
Different sensor formats and resolutions
3D sensor technology
Lenses
Telecentric with object field sizes up to approx. 250 mm
Entocentric with different focal lengths
Filter for ambient light attenuation and lens protection
Prism and mirror attachments
Lighting
Permanent and flashing LED lights
Wavelengths 365 nm to 850 nm
Parameterizable lighting controllers
Special designs
PC accessories
Frame grabber
I/O boards digital, ProfiNet and ProfiBus
USV
Monitors with and without touch function
Connection and adapter cable
Use our software for your Vision-System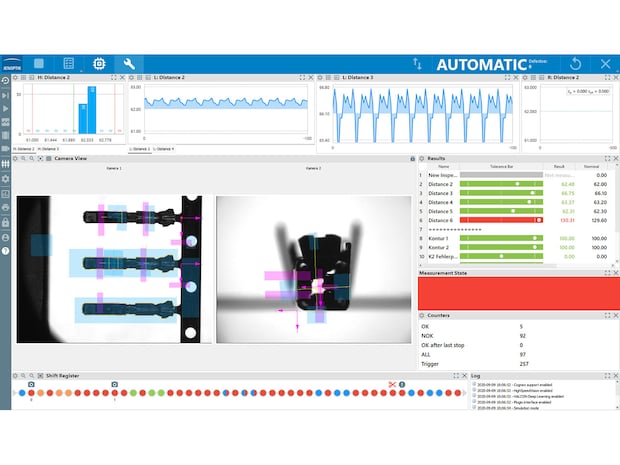 The vision system software includes an extensive function library with algorithms for fast image analysis and dimensional acquisition. It allows modeling of complex 2D and 3D applications and has tools for statistical analysis of the inspection results. The multilingual user interface is very easy to use and allows remote maintenance access so that support can be provided on short notice.
Networking of multiple systems
Control center with central article management
Data exchange with customers and suppliers
Remote system access
Flexibly adjustable software interface
Multiple screen options (results table, live graphic, and live histogram for each independent characteristic, as well as defect images).
Individual number, size and, position of windows
Optional simultaneous display of all camera images in live zoom
Counter displays
Free setting of languages, colors, layouts and output formats
Create complex test sequences easily
Power editor
Intuitive operation (configure - do not program)
Quickly create new applications
Parameter change of all characteristics in an overview
Transfer complex test sequences at one click
Software functions
Extensive measurement library
Contour checks
Surface inspections with monochrome and color cameras
Special tools
Integrated measurement system analysis (MSA according to methods 1 and 3)
Different operating modes configurable (bypass/automatic operation)
System always "activated"
Signals for external connection
Measurement on defect images
Multi-level user system
Results data
Flexible data output
Measurement results as ASCII or XML
Statistical data preparation as random sample in control chart
Order related counters
Total, IO / NIO counter
Histogram counter per characteristic
Error images (jpg, bmp)
Local data output or via LAN
Network Capability
Networking multiple systems
Control center with central article management
Data exchange with customers and suppliers
Remote system access
Artificial intelligence used for optical inspection
Many inspection applications are difficult, if not impossible, to solve with conventional tools of image processing. There are two main reasons for this:
Classification - recognition of predefined parts or properties
Anomalies - detection of any deviation from an ideal
Both challenges can be solved using artificial intelligence – or so called deep learning (machine learning). In contrast to the standard tools of image processing, no test job tailored to the specific article is created, instead a learning procedure is run using a large number of real images.
The learning process takes place on a separate training station, while the deep learning module for 100% inspection is integrated into our vision software. Supported by a power graphics cards, even fast applications can use the tools of artificial intelligence.
Grouping of the parts in defined classes
Example classification of known defects
Prerequisite availability of a sufficient number of parts per defect class
Detection of any deviations (anomalies/defects) from a trained ideal part
Training on the basis of faultless parts, recognition of defects that were unknown at the time of training
Examples for customized testing and sorting systems
Continuous testing of small parts
Testing on rotating glass ring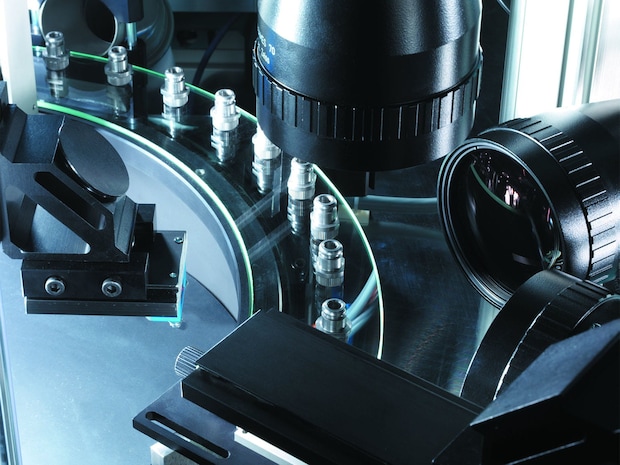 Operating principle
Continuous part transport on rotating glass ring
Testing with 4-8 cameras from different perspectives
Product-specific conveying and separation systems
Sorting error related possible (e.g. for rework)
Dimensions
W x D x H = 810 mm x 1,000 mm x 2,130 mm
Height with open hood approx. 2,800 mm
Test parts
Outer diameter up to approx. 50 mm
Prerequisite: Parts must have a flat support surface for placing on the glass ring
Testing Services
Testing accuracy 0.001 mm to 0.01 mm, depending on part size
Part throughput up to 300 parts / minute
Benefits
High part throughput
Inspection from multiple views
Minimal changeover effort
Clocked inspection of small parts
For comprehensive control, especially tests along the entire circumference, a rotation around the vertical axis is required. Based on the use of a rotary indexing table, or stepwise linear feed, clocked testing and sorting machines are high capable in this regard. The test parts are transferred to suitable centering devices such as mandrels, or clamping devices, and then rotated though 360° during the optical inspection. Cycled testing and sorting machines have one or more measuring stations and allow part sorting according to various criteria:
Test criteria: geometry (dimensional accuracy), surface quality, sorting purity, etc.
Performance: > 60 parts per minute (depending on parts and tasks)
Test technology: CVS image processing with up to 8 high-resolution cameras
Handling: storage hopper, feeding and packaging systems
Dimensions: customer specific
Testing with part-specific automation
Individual positioning of the parts
Operating principle
Handling of the parts specific to the article (lying, standing, hanging ...)
Start-stop operation or continuous throughput
Part rotation of 360° in start-stop operation in front of the cameras
Testing with up to 10 cameras from different perspectives
Sorting error-related possible (e.g. for rework)
Dimensions
Depending on the requirement profile
Test parts
Length / diameter up to approx. 100 mm
Part geometry generally rotationally symmetrical, but also with free forms
Testing services
Testing accuracy 0.001 mm to 0.01 mm, depending on part size
Throughput 10 - 200 parts/ minute
Benefits
Comprehensive inspection of the parts
Inspection from multiple views
Integration of further test equipment possible (e.g. eddy current)