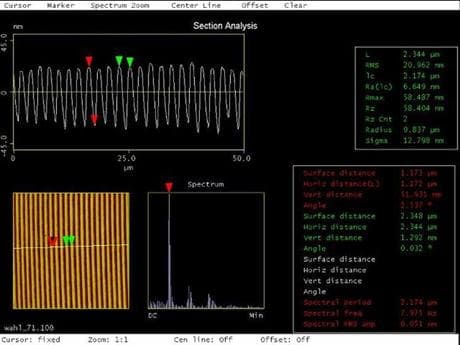 Diffractive optical elements can perform many functions of refractive optics — or even replace them completely. The grating structures are implanted in the polymer in an injection molding process. Reflection and transmission gratings are made to order by our experts — and are always designed to meet your specific requirements.

Our product range includes planar gratings and spherical gratings with a structural density of up to 1000 lines/mm and structural depths of 10 to 400 nm. Sinusoidal and angled structures are particularly suited to injection molding.

Diffractive optical elements can also be combined with refractive optical elements. For example, integrated diffraction gratings can be used to correct the color value of aspherical lenses. Surface nanostructures prevent any reflections on the lens.



Benefits
Versatile: Diffractive optics can perform many of the functions of refractive elements
Cost-effective: Smaller and lighter than conventional optics
Flexible: Can be combined with refractive optical elements
Precise: Atomic force microscope used for measurement
Fields of Application
Lighting and energy: Solar modules
Automotive industry: Camera systems
Do you have any questions? Our experts are happy to help.