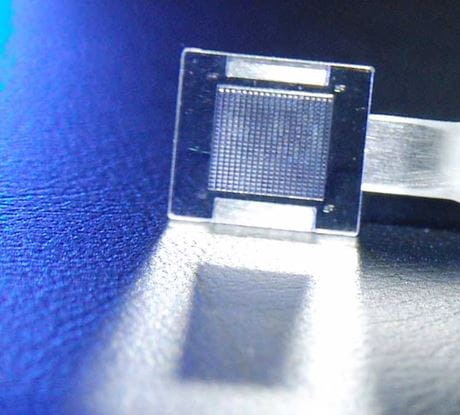 Micro lens arrays are used to homogenize light paths from projectors and to guide the beams into laser projector systems. Jenoptik has developed a double-sided polymer micro lens array for this purpose. The new technology allows both sides of the micro lens array to be aligned facing one another in the µ range. This guarantees precise coverage.
The array contains several optical lenses are positioned very close or immediately next to one another. The individual lenses range
between a few micrometers and one millimeter
in size. They can be cylindrical or rotationally symmetrical. We create different shapes of micro lens array depending on the light field. We manage and implement projects for our customers
from the design stage right through to series production
.
Benefits
Precise coverage: Both sides of the array can be aligned toward one another with high precision in the sub-µ range
Cost-effective production: Polymer micro lens arrays can be manufactured in large quantities
Fewer production stages: The injection molding process allows holders and adjustments to be integrated directly onto the array. This reduces the number of production stages and saves money
Fields of Application
Telecommunications and IT: Mini projectors in laptops or cell phones
Automotive industry: Camera systems
Lighting and energy: Solar modules
Medical technology: Surgical lighting, surgery, cosmetic skin treatment, microscopy
Sensor systems: Mechanical engineering, safety technology, monitoring technology
Do you have any questions? Our experts are happy to help.