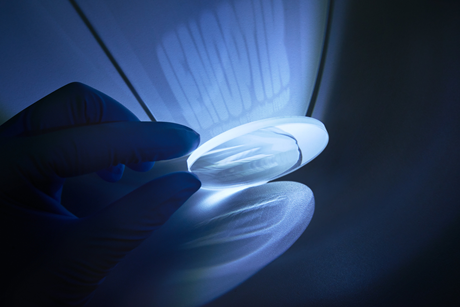 Free-form optics are not rotationally symmetrical and can be used, amongst other things, for the collimation of light, beam formation, imaging and complex light diffusion. For example, a free-form lens can combine and shape parallel light rays to project a logo on one image plane.

The optics have asymmetric characteristics. To ensure accurate processing of these optics with ultra-precise lathes, special knowledge is required along the entire process chain. Jenoptik has the required expertise and sees free-form optics projects from the design stage through to system integration.

With our Slow Tool Servo technology, we can produce high-precision free-form optics with diameters ranging from 1 to 350 mm. We use a modified diamond turning procedure, which uses a controlled rotation axis as well as two linear axes. The part of the free-form optics that is not rotationally symmetrical is achieved by means of a dynamic movement of the tool toward the optical axis.

The process is ideal for diamond processing of polymers (PMMA, Zeonex, PC, PS) and metals (nickel-phosphor, aluminum, copper, brass). Depending on your particular application, we can produce the free-form optics in a wide range of shapes.


Benefits
Dimensional accuracy: Ultra-precise technology thanks to diamond tools
Compact: Greater freedom allows space-saving, minimized components to be integrated
Energy-efficient: The same or even improved optical performance despite the smaller number of optical surfaces
Precise: Achieve roughness of less than 5 nm (Ra — arithmetic mean roughness) and shape deviation of less than 1 µm (peak to valley)­
Expert knowledge: Jenoptik has expertise along the entire process chain
Fields of Application
Automotive industry: Head-up displays (HUDs)
Lighting and energy: Innovative LED lighting optics
Medical technology: Head mounted displays (HMDs), Alvarez elements for microscopy
Sensor systems: Innovative measuring systems, free-form optics in camera systems
Machine Vision: Geo distance measurement
Free-form optics - Value chain
Specialist articles
Shortcut on the Way to Freeform Optics
Specialist article in "Kunststoffe" magazine:
Issue 12/2013
High Precision Freeform Polymer Optics
Specialist article in Optik & Photonik:
Issue May 2012
Do you have any questions? Our experts are happy to help.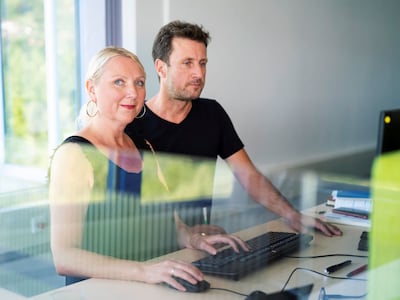 Polymer Optics & Optoelectronic Systems
HCI-CN-Carl-Wang
EditContact