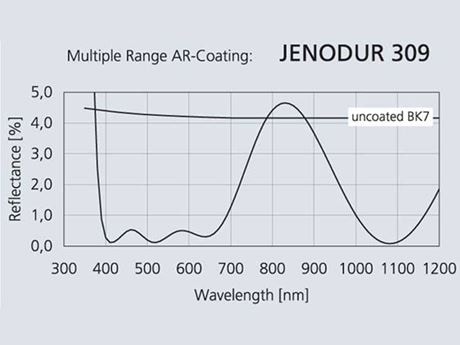 For optical components like windows, lenses and prisms, you need a reliable AR coating. This prevents light from being reflected, thereby enhancing transmission. That means you achieve high-precision results. Antireflection coatings from Jenoptik are suitable for optical components in a wide spectral range from DUV to IR. We can adapt their design to our customers' exact requirements. If required, we can include detailed recommendations on cleaning and handling with delivery.
You can choose from multispectral antireflection coatings, broadband and narrowband coatings or a single layer AR. Contact our experts for advice - they can manufacture customized AR coatings, if required.
Fields of Application
Semiconductor industry: AR coating for DUV lasers
Examples for successful Solutions: AR Coatings for DUV lasers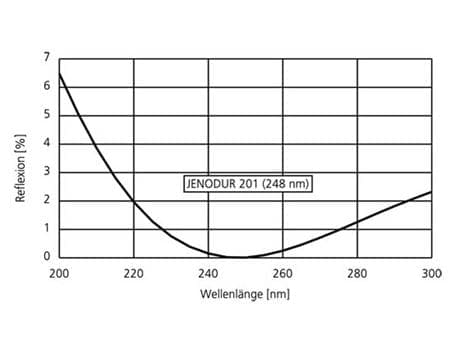 AR Coatings for DUV lasers
The assignment:
Efficient and durable coating layers are required for windows, lenses, prisms and other optical components in the beam path of DUV lasers. Our production includes appropriate processes for polishing and cleaning the active surfaces, as well as handling and packaging.
The solution:
Components with anti-reflective coating are produced in series for the wavelengths 266 nm, 248 nm and 193 nm.
Broadband AR coatings and coatings for an angle of incidence of up to 75° are produced.
The reflectivity of a coating for 248 nm or 193 nm is less than 0.2% (i = 0°).
The laser destruction threshold for 248 nm is above 2.5 J/cm² (1-on-1, 25 ns pulse length).
The JENODUR 201 and JENODUR 203 coatings are available as standard products.
Do you have any questions? Our experts are happy to help.