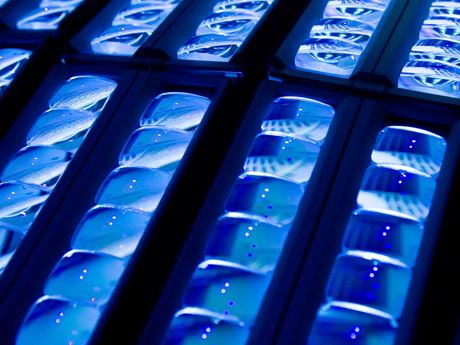 An antireflection coating (or AR coating) is intended for antireflection of optics, such as lenses, objective lenses, prisms and display screens. In this process, plasma ions ensure that light reflection is reduced. This guarantees that images are high-contrast and interference-free.
For example, if you are working with an objective lens that is made up of multiple lenses, these lenses require antireflection. Otherwise, around eight percent of the intensity of the incidental light beam will be lost per lens. Antireflection prevents any reflections from causing interference and blurring the image.
The antireflection coating can be optimized for individual wavelengths or adapted to a wide range of wavelengths.This makes the antireflection suitable for both lasers and for VIS and NIR.
Benefits
High-precision: Coating technology using plasma ions (plasma IAD)
Reliable: Your images are high-contrast and interference-free
Flexible: Antireflection of flat and highly curved surfaces
Easy to clean: Easy-to-clean coatings allow dirt and water to simply roll off
Fields of Application
Health Care: Antireflection for endoscopy.
Automotive industry: AR coating for dashboard indicators
Do you have any questions? Our experts are happy to help.