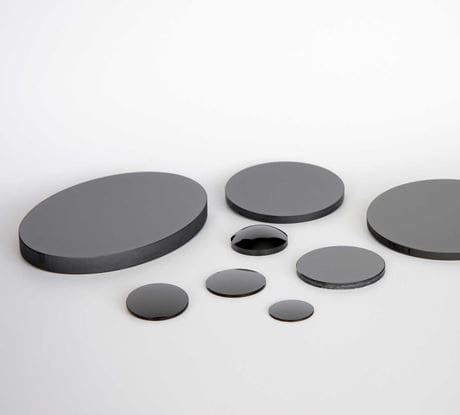 Jenoptik offers diamond-like carbon coatings (DLC) to protect your infrared optical systems against environmental factors. This process involves coating the relevant optical components e.g. for the 3 to 5 µm or 8 to 12 µm wavelength range. DLC coatings have also recently been integrated into conventional coating systems (hybrid coatings). This opens up the possibility of multichannel applications and antireflection of zinc sulfide.

The DLC coating is ideally applied to silicon and germanium. Some special solutions are also available, such as for zinc sulfide (hybrid coatings). The coating offers an impressive level of stability in addition to its antireflection effect. It is extremely robust and resistant.

To provide long-term quality assurance, we test the quality of the DLC coating on a regular basis using the wiper test. Our test is based on the TS 1888 P5.4.3 standard and tests the optical coating by subjecting it to significant mechanical stress. Our experts will be happy to create a design that meets your individual requirements.




Benefits
Robust: Protected against extreme environmental factors
Tested: Regularly tested in accordance with TS 1888 P5.4.3 standard
Customized: Jenoptik develops individual designs for you
Fields of Application
Defense industry: Protect optical components against extreme environmental factors like sand blast
Durability test
Wiper test - TS 1888 P5.4.3
We draw on specially developed test equipment, the so-called wiper test, to test the resilience of our DLC coatings.

This allows us to simulate high mechanical stress on the optical coating, and to test its resilience in accordance with the TS 1888 P5.4.3 standard.

The impact of the wiper test on high-resilience coatings is shown in the picture comparison.

Do you have any questions? Our experts are happy to help.